Dr. Ben Brinda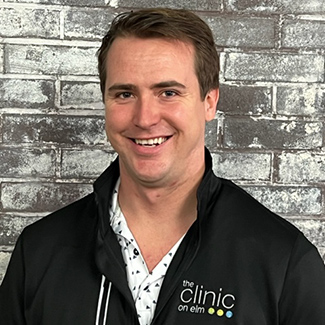 Born and raised in Port Colborne, Dr. Ben is excited to begin his chiropractic career in his hometown at The Clinic on Elm!
Education
Ben completed his undergraduate degree at Sir Wilfrid Laurier University in Waterloo, where he received his Bachelor of Science, majoring in Biology and Chemistry. He then continued his education at D'Youville University in Buffalo, NY, where he graduated from the Doctor of Chiropractic Medicine Program.
While in Western New York, Ben worked as an intern for chiropractic clinics at Erie County Medical Center (ECMC), University of Buffalo Neurosurgery (UBNS) and the Hageman Chiropractic Health Center. These internships allowed Ben to develop and master various chiropractic techniques, including spinal manipulative therapy, myofascial release technique, therapeutic exercises and many more.
Outside the Practice
As an avid lover of sports, Ben can be found playing hockey and golf in his spare time. He also enjoys coaching with the Port Colborne Minor Hockey League. Ben loves the outdoors and often spends his free time hiking the many beautiful Niagara trails with his dog, Presley.
Call The Clinic on Elm today to schedule an appointment with Ben!