Chiropractic Care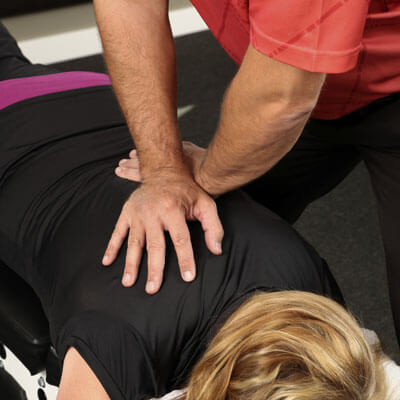 If you suffer from any of the following, you may be an ideal candidate for chiropractic:
Low back pain
Whiplash
Motor vehicle accidents
Workplace injuries
Extremity issues
Frozen shoulder
Vertigo
Sports injuries
A Personalized Experience
When it comes to chiropractic care, you want to know what we do and what you can expect. As a patient with us, you'll be fully educated on each step of your care. You'll have the opportunity to ask all your questions and get the answers you need from us. After a thorough examination, we can determine if you can benefit from care. If so, we'll explain the process of the adjustment to you, along with any therapies we think you can benefit from.
Frequently Asked Questions
Do you work on more than the spine?
Yes, we can also adjust arms and legs, for example. At our practice, we take a holistic approach and ask each patient questions, and from that we can determine what area of the body needs to be addressed using chiropractic care.
Can you help with a frozen shoulder?
Yes, we have had great success with addressing adhesive capsulitis in the past. We suggest a consultation for your first visit, so that we can explain how we approach frozen shoulder. Our chiropractors and physiotherapists will work to alleviate your pain and help resolve the condition.
Do you help patients with vertigo?
Our chiropractor Dr Jim has had great success in addressing vertigo. Chiropractic adjustments may reduce symptoms of vertigo and flare-ups. If possible, it's best to get chiropractic care at the onset of symptoms.
Do you offer chiropractic care for pregnant women?
Yes, we have provided chiropractic care to many pregnant women since we opened our practice. We offer gentle chiropractic and physiotherapy throughout every trimester of pregnancy. Our female physiotherapist also provides pelvic floor therapy, which can be beneficial to moms-to-be.
Do you provide workplace injury therapy?
Yes, we are a registered provider. Chiropractic care after a work-related injury could reduce pain and recovery time.
Can you bill my insurance directly?
Yes, we offer direct billing as a service. Please bring in your EHC information, and we will bill them in the office if your plan allows it. We typically get immediate information on your claim.
A Range of Techniques
Each of our chiropractors has their own skill set in varying techniques. These include Diversified, Active Release Techniques® and Graston. We'll select what we think is most appropriate for you based on your examination. Your preferences are always taken into account. If you prefer to be adjusted in a certain way, just let us know.
Contact our team now to book your initial consultation.
CONTACT US »

Chiropractic Care | (905) 834-5551