Meet the Team
Get to Know Us at The Clinic on Elm

Dr. James Cousineau
Dr Jim Cousineau began his chiropractic career in Port Colborne. In the spring of 1998, he and his wife purchased the building on King Street, which has been a medical office since 1908! In November of 1998, he began his chiropractic practice. An opportunity to relocate came in the spring of 2013. Dr. Jim purchased the former Port Colborne Hydro office. This allows better accessibility and off street parking.
Jim began his pre-chiropractic studies at Brock University where he graduated with a Bachelor of Physical Education degree in 1993. While at Brock, Jim completed studies in human movement, basic anatomy and physiology studies. Upon his graduation, he headed to Lambton College in Sarnia to complete courses in Organic and Inorganic Chemistry in order to prepare for his chiropractic studies.
Read more about Dr. Cousineau »


Dr. Mike Koabel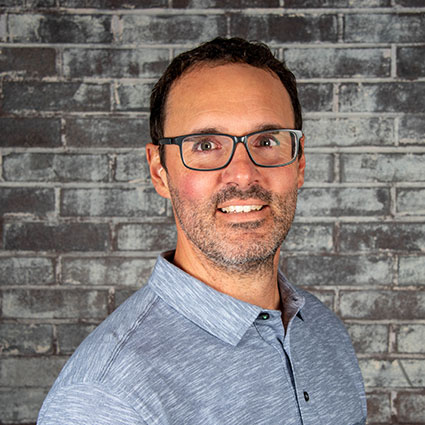 Dr Mike was born and raised in Port Colborne. He joined The Clinic on Elm in the fall of 2004.
Mike went to Brock University in St. Catharines and graduated with a Bachelor of Physical Education with Honours in 1999. Always an athlete, Mike has had a passion for the body and body mechanics. He became very interested in chiropractic at a young age because there was a family history of back issues. It was an easy and natural decision for him to choose his career path in chiropractic.
From Brock, Mike continued his chiropractic studies at Canadian Memorial Chiropractic College in Toronto. An extensive program, he also studied anatomy, physiology and chiropractic adjustment techniques. Mike interned at CMCC during this time. During his time at CMCC, Mike worked as a personal trainer. Mike is trained as a Functional Range Assessment Specialist, Functional Range Conditioning Mobility Specialist as well as in Functional Range Release Technique, A.R.T. and is a certified Graston Technique Practitioner.
Read more about Dr. Koabel »


Nicole Karan, Registered Physiotherapist MPT, BHKin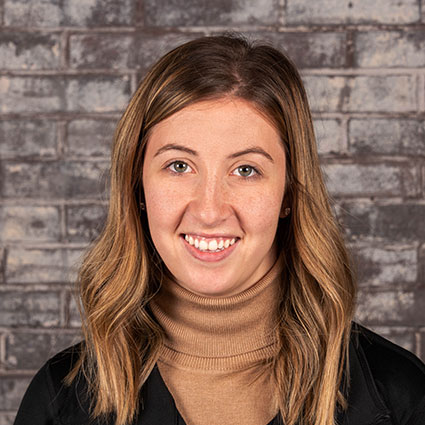 Nikki graduated with honours in Kinesiology from Brock University in 2015. During her undergraduate degree, she also spent time helping in the athletic therapy center with various sports teams. There she developed an interest for human anatomy and physiology, combined with her love for helping people. This as well as her love for knowledge and learning she decided to further her education in Physiotherapy.
She completed her Masters in Physiotherapy at Western University and graduated in 2018. Since then, she has also completed training to specialize in Pelvic Health. Nikki has a passion for women's health and believes more women should be in-tuned with their bodies. She believes in a person-centered approach and hopes that others find meaningful ways to incorporate exercise into their lives.
In her free time, Nikki enjoys playing soccer and volleyball as well as spending time with adorable pup, Gus. Her experience and academic background along with warm and caring personality allow her to help clients reach their full potential and goals.

Tim Vanderweide, Registered Physiotherapist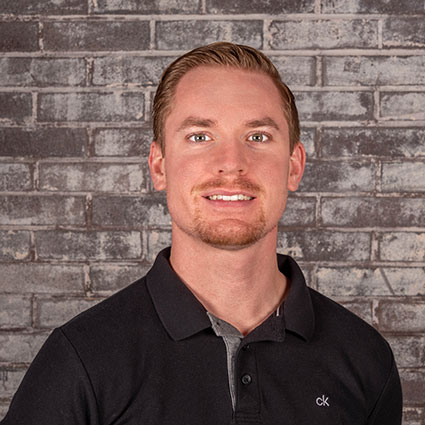 Tim is our Lead Registered Physiotherapist, having graduated from the University of Toronto with a MSc. PT designation in 2018. He began his post-secondary education at Dalhousie University studying Kinesiology and playing varsity soccer before transferring to local Brock University to complete a Bachelor of Kinesiology (Honours) degree.
Tim brings ample experience in the private orthopaedic setting due to his role as a Kinesiologist with local clinics prior to completing his Physiotherapy degree working 1-on-1 with patients to design and complete tailor-made exercise programs. He brings those skills and experiences into his new practice, combined with his new Physiotherapy hands on therapy skills and therapeutic modality education, working hard to ensure every patient is treated as an individual and gets the specific, comprehensive rehabilitation package they require in order to successfully return to daily function. He utilizes an active rehabilitation approach, empowering individuals with the skills and guidance required for them to reach their goals.
Tim believes in updating his knowledge and skills through research and continuing education. Tim has thus far completed a course in Soft Tissue Release, Functional Movement Techniques, & Rocktape as well as attends annual Physiotherapy symposiums.
Tim is thrilled to be a part of Clinic on Elm family and is excited to build with the team for the future and help service the healthcare needs of the City of Port Colborne and surrounding areas and looks forward to helping future patients be well and stay well.
Tim, with his wife, Taylor, lives in Welland, and in his spare time he can be found spending time with his wife, family & friends, playing/coaching/watching soccer, or entertaining his dog, Henry.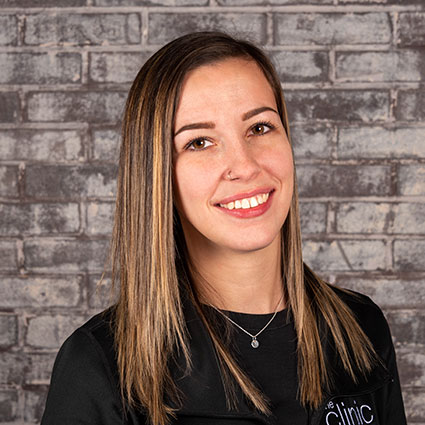 Maddy Perreault, Registered Kinesologist
Maddy graduated from Brock University with an Honours Bachelor of Kinesiology in 2019. She is registered with the College of Kinesiologists of Ontario and a member of the Ontario Kinesiology Association and Canadian Kinesiology Alliance. As a kinesiologist, Maddy focuses on the power of movement in the prevention and management of injury and chronic disease. She currently works closely with patients to implement a unique exercise program. Maddy has a strong knowledge on creating programs that are effective and works well with the other practitioners in the office. Currently Maddy is studying to be a registered massage therapist. She is looking forward to utilizing her background in movement therapy and developing manual therapy skills to empower individuals to move well and feel their best.
When not at The Clinic on Elm, she enjoys exercising, watching sports, travelling and spending time with family and friends.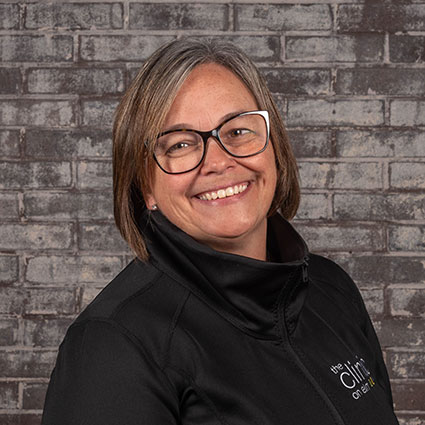 Sherri Cousineau
Sherri works overseeing the daily administration of the office. She began working at the office in 1998. Sherri is a graduate of Brock University with a Bachelor of Recreation and Leisure Studies degree. She is a certified chiropractic assistant, with additional training in laser therapy and the many techniques that are offered within the clinic. She often attends the same seminars that both Dr. Jim and Dr. Mike attend. Sherri is married to Dr. Jim and enjoys spending time with her girls.

Deanna Rudyk
Deanna joined the staff in 1999. She was looking for a different direction, and we were happy to have her join our staff. A familiar face to many patients, she is an outstanding member of our team. Deanna is a specialist in WSIB and her knowledge is put to the test often! Deanna is married to Stan, has four wonderful children, two fantastic daughter in laws and three wonderful grandchildren.
Deanna retired to enjoy her grandbabies, but will always be a part of the team here!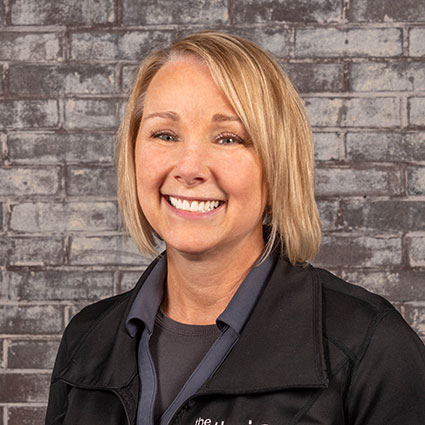 Lisa MacLean
Lisa joined our staff late summer of August 2015. Lisa is an active member of our community and has extensive office experience. Her friendly smile and positive energy adds a special touch to our front desk. Lisa enjoys skiing and biking. She is married to Mark and has two children, one who is attending the University of Guelph and the other attending Georgian College.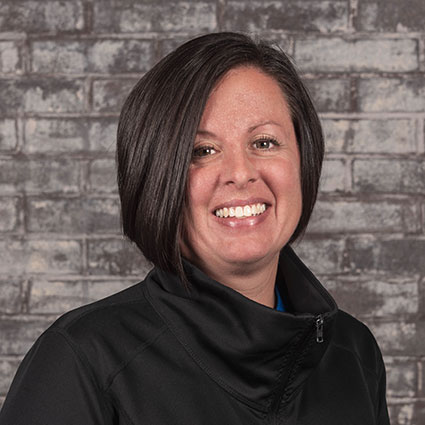 Karen Schroeder
It is with great pride that we welcome back Karen to our front desk. Karen adds a wealth of knowledge and always has a smile on her face. Her dynamic personality and welcoming attitude compliment our already fantastic staff. Karen is a life long resident of Port Colborne, married to Wes and has two children attending school in Port Colborne.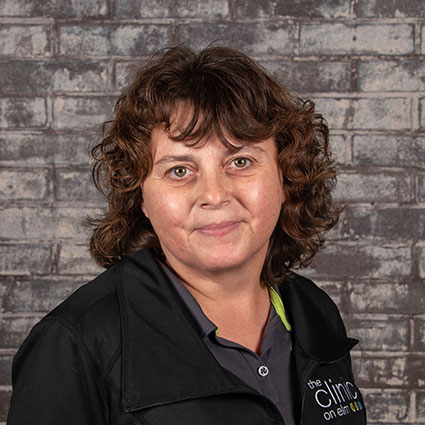 Andrea, PTA
Andrea came to our clinic with years of experience in the physiotherapy world. She currently assists with the OHIP program. Andrea is a delight to have in the office. In her downtime, she enjoys the outdoors
Paul G. The Volunteer Extrodinaire!
(Picture to follow)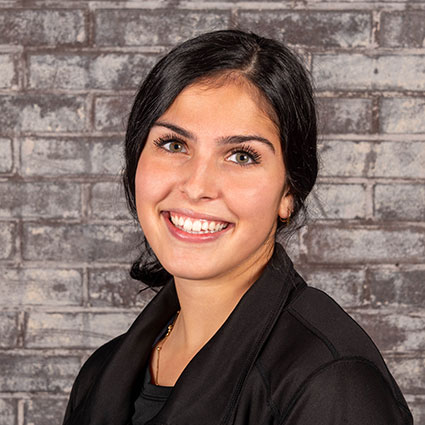 Lyanne, Intern
Well, its official!!!! Lyanne has come onboard with our team as an employee! Her school co-op placement allowed us to get to know her better. She is our SUPERSTAR! Lyanne is a student at Brock in the MPK program.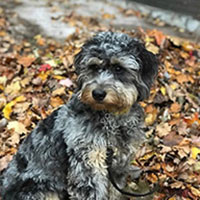 Piper
Piper joined the clinic in the spring of 2019. She would come to the office intermittently. We recognized early on the benefits of having Piper in the office. Patients loved interacting with her. We decided to train Piper at Over the Rainbow Dog Academy. She is also a certified Therapy Dog. Piper hangs out at the front desk or behind the gate in Sherri's office. She is always open to a chat and a petting.


The Clinic on Elm Team | (905) 834-5551